waterproof plastic Anti static uhmwpe ship Fender Facing Pad/Marine rubber fender dock plate
Product Description
PE SLIDING FENDER
Sliding strips and plates made of Polyethylene are a superior alternative to for example timber and other facing materials as a protective cover for different constructions.
HD-PE does not split or decay and is totally resistant to borers. Environmentally friendly, HD-PE can be used instead of tropical hardwoods, lasts much longer, and can be fully recycled at the end of its useful life.
Applications of the UHMWPE Marine Fender Pad :
-Low resistance sliding plates on fender panels
-Low resistance sliding panels for bridge and pier protection
-Corner protectionfor offshore structures, berths, and other marine facilities
Advantages of the UHMWPE Marine Fender Pad :
-Ultra high impact strength
-Very low friction coefficient
-Extremely high abrasion resistance
As the UHMWPE Fender Pad manufacture , we have the following advantages:
-Have the most pressing machines
-Have the largest work shop for processing and stock
-Have the most CNC machine to make couterholes and charmfers
-Use the most famous raw Ticona material
Standard Colors :
Black , Yellow , Blue , Green , Red , and White.(Other colors are available upon request).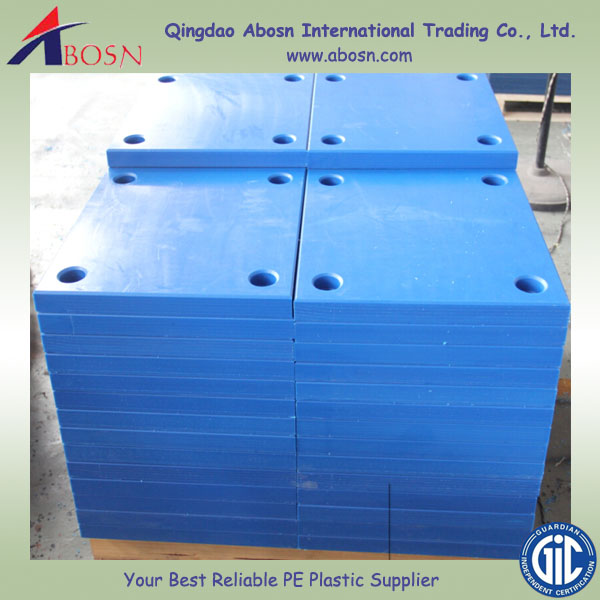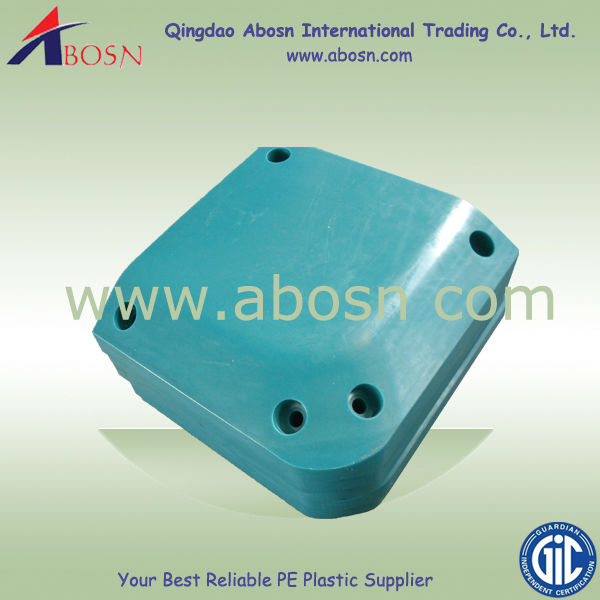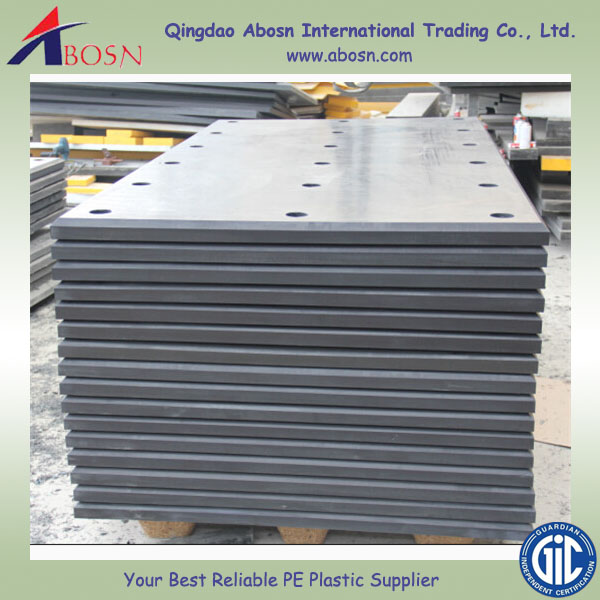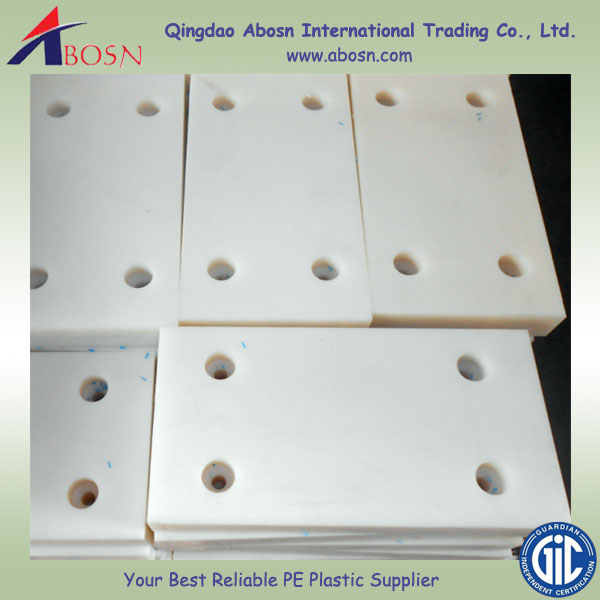 Packaging & Shipping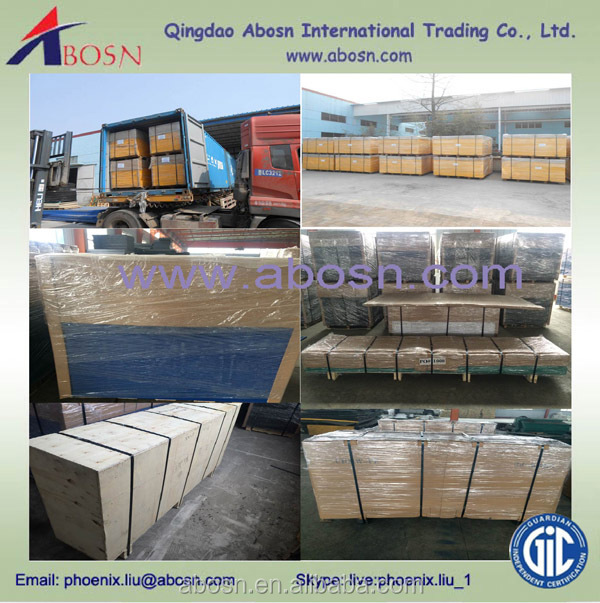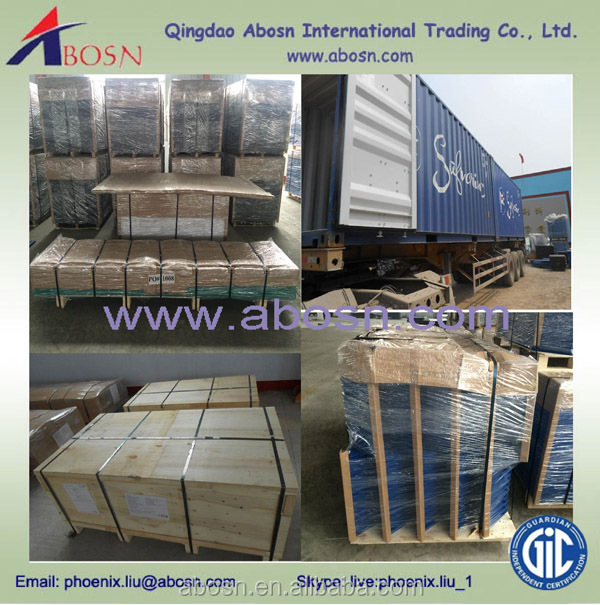 Our Services
We focus on what our customers need and dedicate to produce satisfying products and innovate new products to our clients.
After-sales service - ABOSN Product Quality is Guaranteed
-We have Strict QC and make sure every step of processing is for specification compliance.
-We track our goods from transportation to your sales in local market to help your successful business.
-Manufactured in ISO 9001:2008 facility with over 20 years of manufacturing and fabricating experience
-If you break a pad under normal conditions, Abosn will replace it free of charge.
Company Information
Qingdao Abosn International Co., Ltd was located in Qingdao, the third-largest port city in China;We are dedicated to provide enhanced designs, research and development, manufacturing capabilities, sales, and imports and exports of engineering plastic like UHMWPE Sheet or Rod ,HDPE Sheet or Rod ,Outrigger pads ,Marine Fender facing panel ,Ground protection mats ,uhmwpe suction box cover and other products like PP ,PVC,PTFE and so on Engineer plastic sheets ,rods and parts .Our factory have nearly 48000 square meters areas total 5 workshops for manufacturing and processing Engineer plastics . Advanced CNC machine and biggest extruted and pressed machine make our products can have various range size and best quality . Our products success can be seen through many national and ministerial certificates; they have also recently passed the latest ISO9001:2008 quality system.
Complete organization and strong technical strength provide us with the ability to constantly develop new products according to customer demands. In the industry we have the most strong vender resources,advanced processing and testing equipment, professional and high quality design, and production and construction team.
Our Ultra-high molecular weight polyethylene (UHMWPE ) products like Ground protection mats ,Outrigger pads ,Ice rink barrier ,Suction box cover ,HDPE Sheet or Rod and other UHMWPE or HDPE machined Parts and other engineering plastic products have been exported to Europe, Southeast Asia, North America, South America and other regions; and has gained reliable trust from all of customers.
FAQ
Q : We have a strict control on our quality so we must assure the uhmwpe parts that we imported have good quality ,how can you assure that ?
A: Dear sir ,that is really a good question .We control our quality from raw material to the processing process in every aspects .Also we use TICONA brand material as the raw material .Their quality is very famous all over the world .
Q: Can you exported by yourself and which country that you have exported ?
A: Dear Sir ,we have exported license and we have exported to many countries like America ,Russia ,Africa ,Thailand ,Malaysia ,Indonesia ,Japan ,Germany ,Poland ,Uk ,Canada and many other countries .
Q: If we purchase from you ,what benefits that you can bring to us ?
A: We can bring you benefits in four aspects : Price ,Service ,Delivery time ,Quality
Price :If you buy from us ,we can assure that your price is competitive than others since we are the largest manufacture for UHMWPE products
Service :We have special sales and single service for you which will make sure that you can get every good service on each order
Delivery time :We have nearly 16 sets pressing machines and 7 sets CNC machine to do the processing which will make sure a very fast delivery time
Quality : Quality is the best since raw material and our pressing machine is best
Q:We are very urgent on this sample order and quantity is only 4 tons ,could you finished them in 10 days ?
A:OK ,even our normal delivery time is 15 days ,but we would like to help you solve this problem.
If you have any questions or needs, please do not hesitate to contact us.
Contact information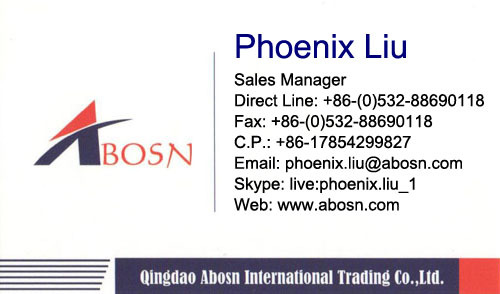 waterproof plastic Anti static uhmwpe ship Fender Facing Pad/Marine rubber fender dock plate